Beyond Repairs: Our Approach to Quality Service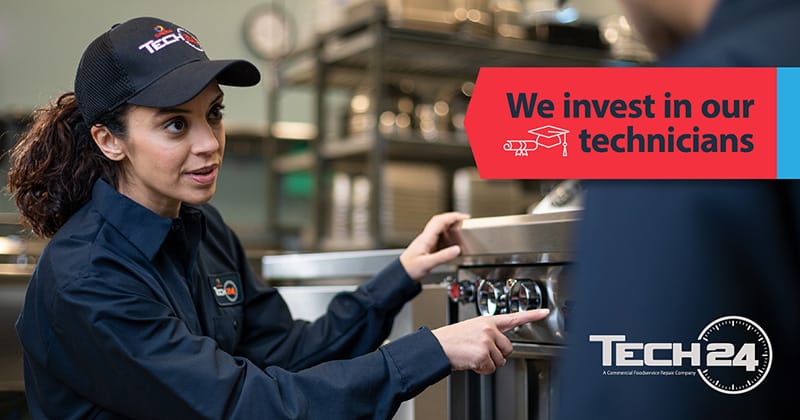 In the foodservice repair industry, it is common to hear promises of excellent customer service and outstanding work ethic. The industry is, after all, focused on providing customers with a reason to return again and again. But how many of these service providers have a concrete blueprint for carrying out this most important mission to scale?  
The Tech24 approach to quality 
At Tech24, we feel the true meaning behind quality goes far beyond the completion of a successful repair or installation.  
Our business is built on our technicians, so quality begins with the way our technicians are trained to best serve our customers. We have carefully developed and finely honed a strategy to help our technicians achieve excellence and provide the Tech24 quality of service each customer truly deserves.  
This commitment to cultivating greatness in each and every technician is what defines us. It's the backbone of our company.  
The Tech24 technician training blueprint 
We take great pride in our game plan for training our technicians. Our Tech24 University is a proprietary curriculum based on CFESA "Field Service" principles and 40+ years of field experience and provides equal parts instruction and hands-on training.  
With professional, full-time trainers on staff, we ensure our technicians have the expertise to handle any challenge with confidence. Our training blueprint is based on: 
The extensive hands-on training of each technician

 
We employ the very best trainers in the industry, for both in-person and virtual classrooms. Tech24 courses have been scaled to extend across the country to various branches for hands-on learning, in addition to supplemental virtual learning environments.  
We support our technicians beyond the classroom and into the field in the form of live video assistance should any repair issue require consultation. We also continue our support along each technician's career path by providing continuing education opportunities such as ongoing training sessions.  
A significant investment in tools and technology

 

 
The foodservice industry is rapidly evolving, and we embrace technology as the key to a successful future. Tech24 repair vans are equipped with wireless technology and GPS tracking and are stocked with commonly needed parts inventory. Cameras are provided to each technician to document repairs, installations and any planned maintenance events. Paperless invoicing and electronic signature capture is an added bonus, and these are just a few examples of the technology we employ to provide our technicians and customers with high-quality tools. 
Instant in-field support for all technicians

 
All technicians are provided with access to real-time live video support from subject matter experts, should a question arise while on a service call. In addition, technicians have access to digital service manuals, diagrams and an inventory database of what's available on-truck or at the warehouse.  
A priority on safety first

 
Each technician is provided with in-depth training in all safety best practices as well as COVID-related procedures and is supplied with the best PPE to work and drive safely.  Ongoing trainings are held as needed to keep safety top of mind and update our technicians on any new best practices. 
A focus on continuous improvement

 
In order to improve in the service industry, the consistent tracking and measurement of internal key performance indicators is crucial. Tracking such indicators as first-time fix rates can give a concrete number to success and help guide improvements in the future. Tech24 employs an active service survey program to quickly identify any unsatisfied customer and solve the issue immediately.  
The Tech24 pledge  
Our approach to quality means Tech24 pledges the maximum investment in technicians as a founding principle. We wish to be more than providers of excellent customer service — we want to be the best at what we do.  
We strive to strengthen and guide our team members along the journey and stand by them through an entire career within our company. And, as technology continues to advance, the complexity of equipment will expand as well, so experience and training needs will continue to be a focus. 
Learn more about the Tech24 University program and how our technician training program is the best in the industry.