Don't Let the Cold Bite: A Best Practice Guide to Winterizing Your Foodservice Operation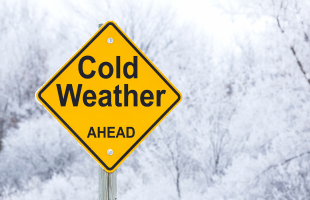 Before temperatures drop and winter approaches, it is time to start preparing your foodservice operation for seasonal changes.  
Why winterizing your foodservice operation is important 
Taking the time to properly prepare for the winter season can save you money in terms of repairs, downtime, lost business opportunities and potential legal liabilities. In addition, following a careful seasonal protocol can improve efficiency by optimizing equipment performance during seasonal fluctuations.  
Instituting a seasonal weather maintenance plan requires an understanding of the key steps necessary and the potential costs associated with doing so. Foodservice equipment, refrigeration systems and HVAC and heating units must be inspected and maintained to identify any issues before they become problems in cold weather. Security and safety protocols should be reviewed and updated as needed to protect staff and customers alike.  
Tech24 experts have weighed in and provided some top ways to prepare facilities and foodservice equipment for the fall and winter seasons. 
HVAC system maintenance for winterizing facilities 
Winter weather can bring a unique set of challenges to foodservice operations. To ensure that all components of their HVAC system are working as they should, it is critical that businesses carefully inspect and use a professional service team to maintain all parts of the HVAC system.  
Joe Lasely, president of Allied Service Group in Jackson, Tennessee, recommends paying careful attention to this key checklist: 
Change air filters.

"If your filters get clogged up, it can actually cause the system to overheat and shut down," says Lasley. 

 

Inspect outdoor condenser units

. Clean condenser and evaporator coils for maximum efficiency.  Inspect heat exchangers for cracks. "It's possible to get carbon monoxide into the building," said Lasley, "this can cause headaches and dizziness, and in some cases, can be deadly. 

 

Check that fresh air dampers are operational.

"Commercial buildings are required to bring in 25% outside airflow to mix with recirculating indoor air to dilute pollutants like viruses and bacteria," says Lasley. "If this isn't happening correctly, you're going to have a safety issue."

 
Test thermostat programming.

Make sure all thermostat programming is functioning properly and batteries are operational. "We often find that the schedule is not programmed correctly," said Lasley, "and the heat doesn't come on when it's supposed to or turns on at night when it's not needed. It's a simple fix that can maximize efficiency." 

 

Check ductwork and insulation for cracks and holes.

"If ductwork is cracked or damaged, it can lead to energy inefficiency during winter months," says Lasley. "You really need to get into those attic spaces and inspect ceiling tiles as well." Poor ventilation can even result in health risks posed by mold or hazardous gasses. 

 
Refrigeration system maintenance for winterizing facilities 
Preparation for the winter season should begin with a regularly scheduled planned maintenance visit for your refrigeration units, walk-ins and coolers, ideally long before a cold snap or fluctuating weather arrives. Temperature extremes can be difficult on refrigeration systems. Lasley recommends that proactive servicing includes these steps: 
Check refrigerant in any exterior unit condensers.

Rapidly fluctuating temperatures can cause refrigerant to run low, causing cooling problems. "There are capacity controls, sometimes known as headmasters or fan cycle switches," says Lasley, "that help keep the pressures up when it's cold outside. If any of these components are not functioning well, it will starve the system and cause temperature problems. 

 

Make sure low ambient controls are installed and operating properly. "

Otherwise, there will be temperature issues in your walk-ins when the weather fluctuates," says Lasley, "especially during a sudden cold snap."

 

Examine equipment for potential safety hazards.

This could include loose wires, frayed power cords or even gas leaks. 

 
Wipe condenser and evaporator coils.

This will increase the efficiency of your refrigeration system(s).

 

Clean evaporator pans and drain lines and visually inspect filters.

Replace parts or filters as needed. 

 
I'm located in the South – do I need to winterize my heating system? 
It's a valid question, and many operations feel it's acceptable to let fall/winter equipment maintenance slide due to that fact. But it's truthfully quite important that you don't.  
"Believe it or not, one of the biggest issues we see in the southern states is with heat," said Mike Reed, president of Temco, Mississippi. "With a lot of foodservice operations only needing to use heat maybe two months of the year, maintenance tends to fall to the wayside. Then a cold snap hits and suddenly, there's an issue with a system that hasn't run in the past ten months. In some cases, it's even become a fire hazard." 
Commercial heating system maintenance for fall/winter 
According to Reed, establishments in the deep south most often utilize electric heat back-up during the fall and winter seasons. Up in northern climates, systems are more often gas furnaces.  
At a service visit it is important to test the system to make sure it is working properly. Don't wait until cold weather strikes for a system test. "If you utilize a back-up system, or 'emergency heat', make sure that is operational as well," says Reed.  
In addition, a professional service technician should: 
Replace indoor air filters and belts

 

Inspect heat exchangers for cracks

 

Clean burners, ignitors, and flame sensors

 

Check gas pressures

 

Check for gas leaks on all piping

 

Ensure smooth burner ignition

 

Inspect for flame roll out at burners

 

Clean all fresh air intake filters

 

Remove electric heater kits to check for element breaks and clean dust and debris

 
Reed advises not to delay ordering necessary parts or completing repairs because it's still warm outside. "As the weather gets colder, parts quickly become high demand. It's always better to order early."  
 Tech24 solutions for winterizing foodservice operations 
Regular maintenance can extend the life of your costly commercial equipment and identify potential issues that could lead to shutdowns or unexpected expenses in the future.  
Tech24 offers comprehensive solutions to help businesses plan for inclement weather or extreme changes in weather. Their team of experienced technicians will provide and develop custom solutions to address specific needs. In addition to helping winterize your facility, Tech24 can also help create an emergency plan, so you're prepared for unexpected weather conditions like extreme cold, heavy snowfall or loss of power. With Tech24's expertise and guidance, businesses will be able to ensure continuity of operations even during harsh or fluctuating winter weather conditions. 
At Tech24, we understand how important it is to keep commercial facilities running smoothly throughout the year – if you're looking for comprehensive solutions to help you plan for the changing season and ensure continuity of operations during severe weather conditions, fill out a contact form for more information about how Tech24 can help you today!