Navigating Evolving Kitchen Challenges: Top Ten Insights from Tech24
Navigating Evolving Kitchen Challenges: Top Ten Insights from Tech24
In the ever-evolving world of foodservice, operators face a myriad of challenges, from managing smaller kitchens to tackling maintenance tasks and labor shortages. Strengthening technician relationships is a pivotal step in achieving smoother operations.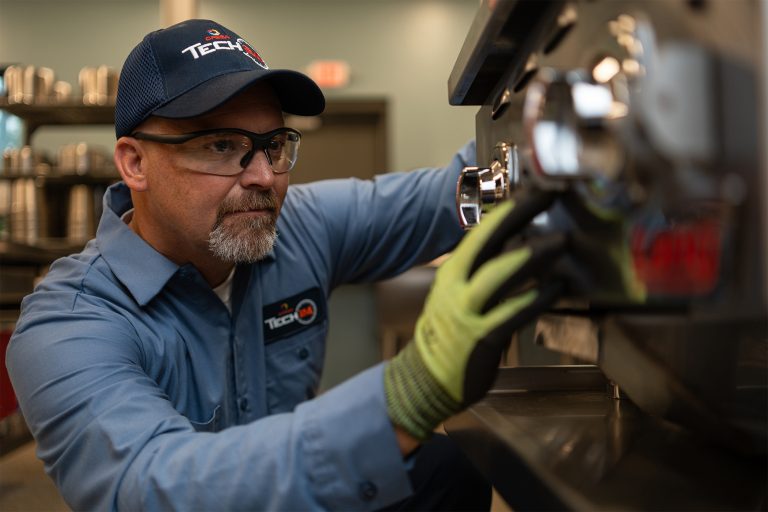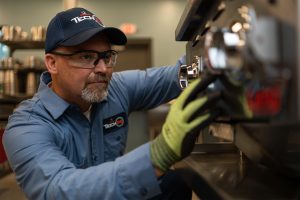 In a recent interview with Roe Skidmore, the Director of Operations for ESI, a Tech24 partner company, we gained invaluable insights into the changing commercial kitchen landscape.
Here are the top ten pearls of wisdom every operator should know about rolling with the punches as kitchens continue to grow, evolve and adapt to new challenges.
1. Adapt to changing industry perspectives.
Operators now rely more on service companies to address issues promptly and nurture existing equipment to keep it running better and longer. "Today's kitchens are continually transforming," says Skidmore, "and the need to control costs and reduce back-up equipment has shifted the service perspective."
Strong partnerships and open communication with service providers who understand your needs are key to maintaining efficient operations.
2. Stay engaged in the day-to-day.
Skidmore says operators should play a necessary and hands-on role in keeping their equipment clean and operational. This means adhering to equipment manufacturers' detailed instructions for daily, weekly and monthly maintenance tasks. "The upside to being hands-on," says Skidmore, "is that operators can minimize the need for additional service calls. Being proactive will go a long way in maximizing the life of equipment."
3. Don't put maintenance tasks on the back burner.
Paying consistent attention to in-house maintenance tasks that should be completed on a daily or weekly basis has a greater importance than operators might realize. In many cases, these tasks simply go undone.
"We see this happening quite a bit due to the many challenges operators face day in and day out, and these tasks just don't get allocated efficiently," says Skidmore. Putting a priority on the smaller, in-house equipment maintenance tasks, including a schedule of who will be conducting them, is the best way to stay on top of maintenance before problems occur.
4. Have a labor shortage plan in place.
Labor shortages remain a frequent issue for many in the foodservice industry. Staffing deficiencies can disrupt service technician visits and reduce equipment performance. Effective communication between operators and technicians is crucial.
"Make sure your technician is informed about scheduled jobs well in advance," says Skidmore, "and have a chain-of-command plan in place well in advance of a visit." More than one staff member should be involved with your service provider so scheduled visits are not disrupted by call-offs or other labor issues.
5. Forge a strong technician-operator relationship.
Trust and reliability are the foundations of a successful partnership with service companies. When selecting a service provider, you need to consider more than just fair rates. Honesty and industry experience are equally important (if not more important). Choosing reputable and competent technicians will help to maximize equipment performance and reduce costly mistakes.
6. Streamline your planned maintenance visits.
Efficient and timely planned maintenance scheduling is a win-win for both operators and technicians. Provide your service company with quick and reliable access to equipment and stick to scheduled appointment times.
"We've had situations where our technicians have arrived at a scheduled date and time, and no one is there to even open the door," said Skidmore. "This type of inefficiency gets costly for both sides and erodes that technician-operator relationship."
7. Manage emergency calls effectively.
Minimize disruptions and avoid premium rates for non-critical issues by having a comprehensive planned maintenance plan in place, and knowing what equipment you can or can't do without.
"It's incredibly important to prioritize critical equipment," says Skidmore. "Before calling for an emergency visit, ask yourself – is this truly a crisis situation, or more of an inconvenience?" If your operation can continue to run smoothly without that particular piece of equipment in play, hold off on calling it a true emergency and take the next available non-emergency service appointment.
8. Hone your repair vs. replace decision-making process.
Open communication and alignment between operators and technicians are essential when deciding whether to repair or replace equipment. "You can opt for long-term solutions over temporary fixes to maintain equipment reliability," says Skidmore. "But fully communicate with your technician before making these decisions. If you are repairing a piece of equipment that is obviously going to fail again, it's likely time to make the commitment to replace."
Your technician will have access to service records for each piece of equipment and should give you an honest opinion of its reliability and ability to maintain ongoing efficiency. "This is where trust and communication are essential," says Skidmore.
9. Understand the differences between chain operators vs. mom-and-pop restaurants.
Different sized operations face varying challenges. While chain operators may have access to more financial resources and often take proactive approaches to equipment replacement, mom-and-pop restaurants operate on much tighter budgets. "My advice is to exercise caution if you're a smaller foodservice operation and considering purchasing second-hand equipment," says Skidmore. "It can cause a number of headaches and very expensive repair bills when you do decide to go that route. You don't have a history for that equipment, and more often than not, it ends up needing replaced."
10. Ask about your service technician's experience and training.
The fast-paced technology landscape demands continuous training for foodservice equipment technicians. Stay ahead of the manufacturer's evolving equipment design and computer-driven systems by investing in service companies who provide comprehensive training programs for their technicians. "Tech24's commitment to ongoing training ensures our technicians remain at the forefront of the industry," says Skidmore. "So, if you're not sure, ask your service company about their technician training programs. If they're guarded about their answer, that's a red flag."
By leveraging these insights, foodservice operations can navigate the evolving challenges of kitchen operations, build strong partnerships with service technicians, and optimize their equipment's performance. At Tech24, we are committed to providing reliable and efficient service to ensure your success in the challenging and dynamic world of foodservice.
Visit www.mytech24.com to learn more about our comprehensive solutions and how we can assist your foodservice operation.